150 – 1000mm (6 – 40")
Powerful grinding, milling and cutting
Sewer Robotics offers rehabilitation robots in 3 different-sizes for optimized application ranges, maximized in-pipe clearances and easy deployment from tight manholes
These robots are all compatible with the same cable reels and control units and therefore easily exchanged. And if you only need a different size cutter occasionally, than we have loaner equipment available for you.
"The most powerful 150mm (6")
cutter on the market!"
HA125

HA195

HA250

Pipe Diameter
150 – 500mm
(6-20")
250 - 750mm
(10-30")
250 – 1000mm
(10 –40")
Available cutter motors
Water
Pneumatic
Water
Pneumatic
Electric
Water
Pneumatic
Electric
Ram lift
210mm
(8")
270mm
(11")
325mm
(13")
Cutter pivot

90°

90°

90°

Lens cleaner(s)

Compressed air Water

Water On-demand Wiper

Water On-demand Wiper

Camera Rotation

Infinte

Infinite

Compatible Robot
R125
R160
R250
WATER, AIR, OR ELECTRIC CUTTING?
Although most contractors appreciate the added power, low maintenance costs and easy upgrading to water jet cutting, there might be jobs where a water supply is not desired or silence more appreciated.
SEWER ROBOTICS cutters can be used with powerful water driven, pneumatic or silent electric cutter motors.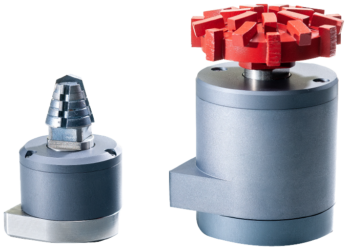 Drive

Benefits

Water
+ Extreme power
+ Low maintenance costs
+ Upgrade to water jet cutting
Air

+ No water supply required

Electric
+ Single cable
+ Silent
+ No water supply required